If I had a camera crew follow me around all day at work, they'd be bored. And if the camera men can't keep their eyes open to film me sitting at my desk, talking on the phone, walking to the bathroom, and eating lunch at my desk (then, of course, struggling with a Tide to Go pen to remove the remnants of lunch from my shirt), I'm not optimistic that a network would be eager to share the footage with viewers.
I think few peoples' day-to-day jobs have the makings of great reality TV. Even jobs that are featured on shows like
Dirty Jobs
would lose viewers if coverage about cleaning portable toilets and inseminating farm animals lasted beyond two minutes.
In spite of the low entertainment factor of most professions, my newest favorite reality TV show is all about life at work. The show?
Tanked
. The work? Making custom-made acrylic fish tanks.
Making underwater dreams come true
Fish capture the interest of a niche audience, no doubt, but the show doesn't just attract die-hard fish fans.
The show appeals to the masses because it throws strong personalities, the dynamics of a family business, eccentric clients, and creativity into one "tank" and lets viewers watch what works, what gets rusty, and what floats to the top, belly-up.
"The General" oversees Acrylic Tank Manufacturing (ATM), a family owned business in Las Vegas. His son, Brett is involved in design and sales. Brett's sister, Heather, is the company's accountant and she's married to Wayde, who works alongside Brett. "Redneck" is a marine technician and plumber.
ATM tackles unique projects like making an operational fish tank in a bar that's constructed of ice (no joke,
Minus 5
in Las Vegas is constructed of ice), designing and installing a 35-ft. fish tank "wall" for a casino in San Diego, and transforming an old bus into a mobile aquarium.
Details that make a splash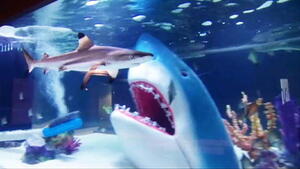 Look closely. He's wearing braces!
In spite of the impressive marine- and customer-related challenges ATM faces and conquers, what interests me most about the aquariums are the personal details the guys sneak into their creations. It's one thing to build a custom shark tank in an orthodontist's office, but it's another thing altogether to troll the Internet for a plastic shark head and fit the shark with shiny braces to create a funny, fitting tank centerpiece.
My favorite tank to date started out as a brand new stainless steel refrigerator. When ATM was done with it, fish were swimming between the shelves, behind the operational water/ice dispenser, and around the "groceries" inside - a gallon of milk (labeled "Milk for Wayde's Cookies"), dressing (complete with Heather's picture, labeled "Heather's Honey Dressing"), and fish-themed orange juice ketchup, and mustard. (View Plesser's Appliance & Electronic's live refrigerator fish tank webcam on their
website
).
Native New Yorkers who take the time to delight their customers by creating customized, waterproof props for a fish tank that looks like a refrigerator? It doesn't get any better than that.
If wishes were fishes...
As interesting as it is to watch the guys figure out how they'll make their customers' wet and wild dreams come true, play pranks on each other, and figure out the logistics of tank construction and transportation, I like watching the show because it shows me that there is money to be made outside of corporate-issued, fabric-covered cubicle walls.
My professional adventures may never take me outside of the bland office environment I'm accustomed to, but for one hour a week, I can live vicariously.
And with our betta fish, Cubie, adding to the ambiance of our home office, I almost feel like one of ATM's eccentric customers. Almost.